One of the ways Samsung has ensured that the Galaxy S8 users enjoy the beautiful display of the smartphone is by keeping it always on with some essentials shown and some animations alongside it. This is called as the Always-on display and the Galaxy S8 although isn't the only phone to have such a feature (remember Moto Display on the Moto phones?), the implementation here is great.
In the guide below, we talk about the Always On display on the Samsung Galaxy S8 and Galaxy S8+ and show you how you can change what it information it shows. There's a lot that you can do, so don't already adjust to what comes by default on the device. Also, if you think that the Always On display is unnecessary and is wasting battery of the device, you can choose to turn it off. Here's how to configure it.
The option to change the Always On display settings is under Settings > Lock screen and security. Here, scroll down to get to "Lock screen and Always on display". The first option itself helps you choose to have it activated or deactivate it. The button on the right is what lets you control, but tapping on the "Always On Display" text will open up the different styles.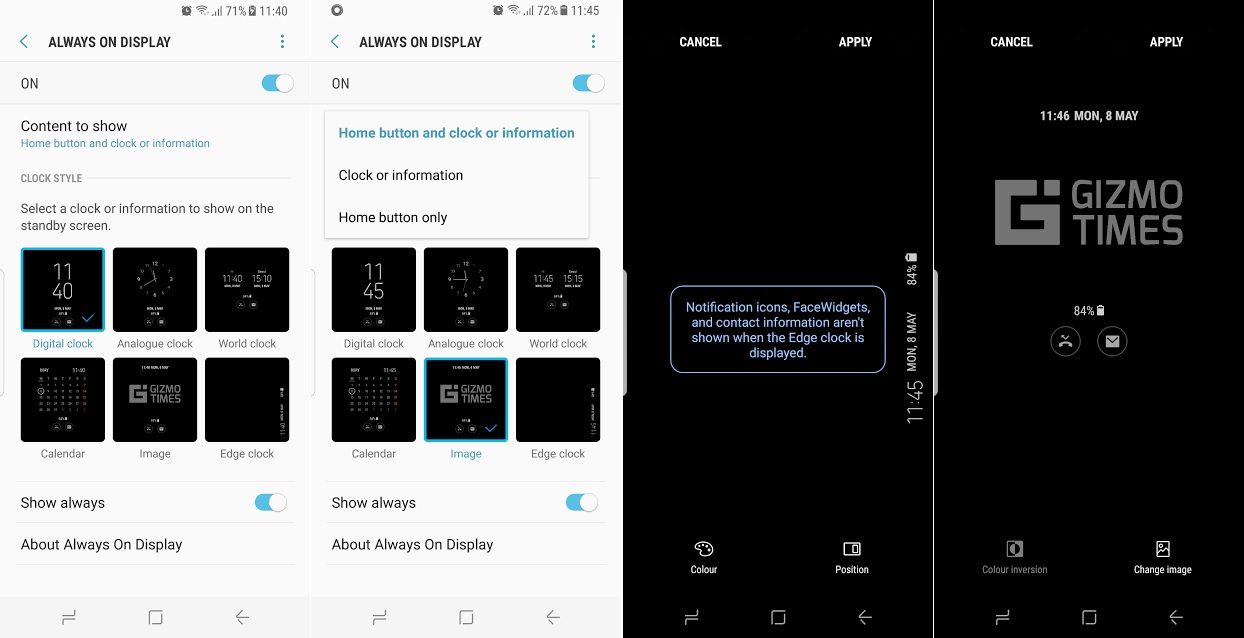 The picture below will do justice on what the styles available are. It is a total of six styles to choose from and you can choose to even have your own photo in one of the styles, but as is the case with AMOLED displays, the more area shown on the screen, the more pixels are activated and use the battery.
Also, you can choose the Content to show – Either have the Home button and clock/information, either have clock or information or have only the home button to show.
Going back to the Lock screen and security settings, you can notice the "Information and FaceWidgets" section. That will let you choose to show the Music Controller, Today's schedule, and Next alarm time. For the worried users who wanted to show their contact information in case the phone is lost and reaches someone's hand, there is an option to have an email address or phone number that shows on the Always-on display or on the lock screen.