Infocus, the American smartphone manufacturer has announced that the Android 6.0 Marshmallow update will be rolling out to two of their devices. Infocus had released their latest flagship device, the Infocus M812 in September which comes with Android 5.1 Lollipop OS. Another device which will be getting the update is the budget smartphone by Infocus, the M370 which was launched in July this year.
With the company rolling out updates for a Flagship smartphone and a budget smartphone, Infocus is going to please both segments of users with their Android 6.0 Marshmallow rollout. Most companies are releasing the Marshmallow update to their flagships or the upper mid-range devices. Companies like HTC, Lenovo, Honor, Sony, Motorola have already shared their roadmap for devices which will be getting Android 6.0 Marshmallow update.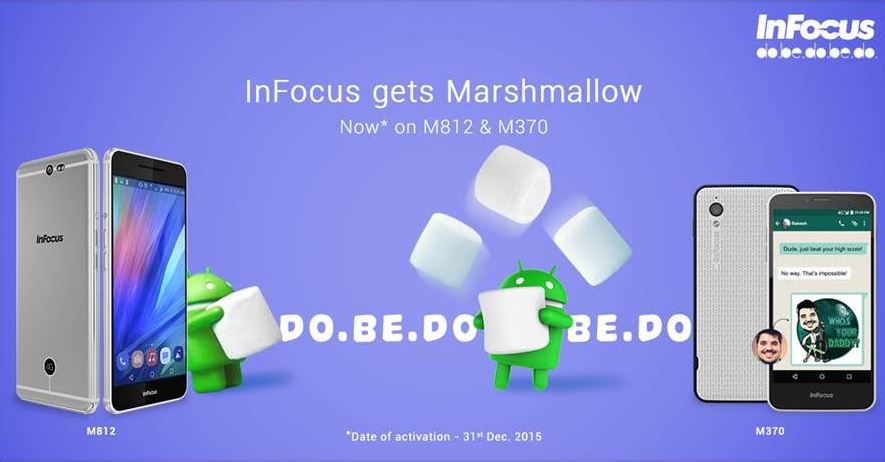 The Flagship from Infocus which will be getting the Android 6.0 Marshmallow update is the M812 which has decent specifications sporting a 5.5 inch Full HD display having resolution of 1920 x 1080 pixels. It is powered by a 2.5 GHz Quad core Qualcomm Snapdragon 810 processor coupled with 3 GB of RAM and comes with 16 GB internal memory expandable up to 128GB using microSD card. It has 13MP rear camera and a 8MP front-facing camera. The Infocus M812 is powered by a 2900mAh battery. It is priced at Rs. 19,999 which competes with the likes of OnePlus One.
The Infocus M370 on the other hand is a budget device which was launched with Andorid 5.1.1 Lollipop and is getting the upgrade, might be one of the first budget smartphones to get the latest OS update. With a 5-inch HD display having resolution of 1280 x 720 pixels and powered by Qualcomm Snaodragon 210 SoC with 1GB of RAM this is one of the best budget smartphones. It comes with 4G LTE support and has 8GB internla memory expnadbale up to 64GB. It is priced arounf Rs. 5,900 and is one of the cheapest 4G enable smartphones.
It is expected that both the devices, Infocus M812 and M370 will be getting the Android 6.0 Marshmallow update by the end of this year. There is an image which gives the date as 31st Dec 2015 with the names of botht he smartphones in the image.
Source: NDTV