Airtel India has been doing quite a bit to keep its current subscribers happy while facing all the heat from the new entrant in the Telecom industry, the Reliance Jio 4G network. The latest from the current leader in the market is an offer that gives users up to 5GB of free Night data, and that can be availed based on a few tasks.
Here's how you can get the offer, and please note that it isn't available for every subscriber but most of them are talking about it. You need to have the My Airtel app running in your device and there are some rules to be followed.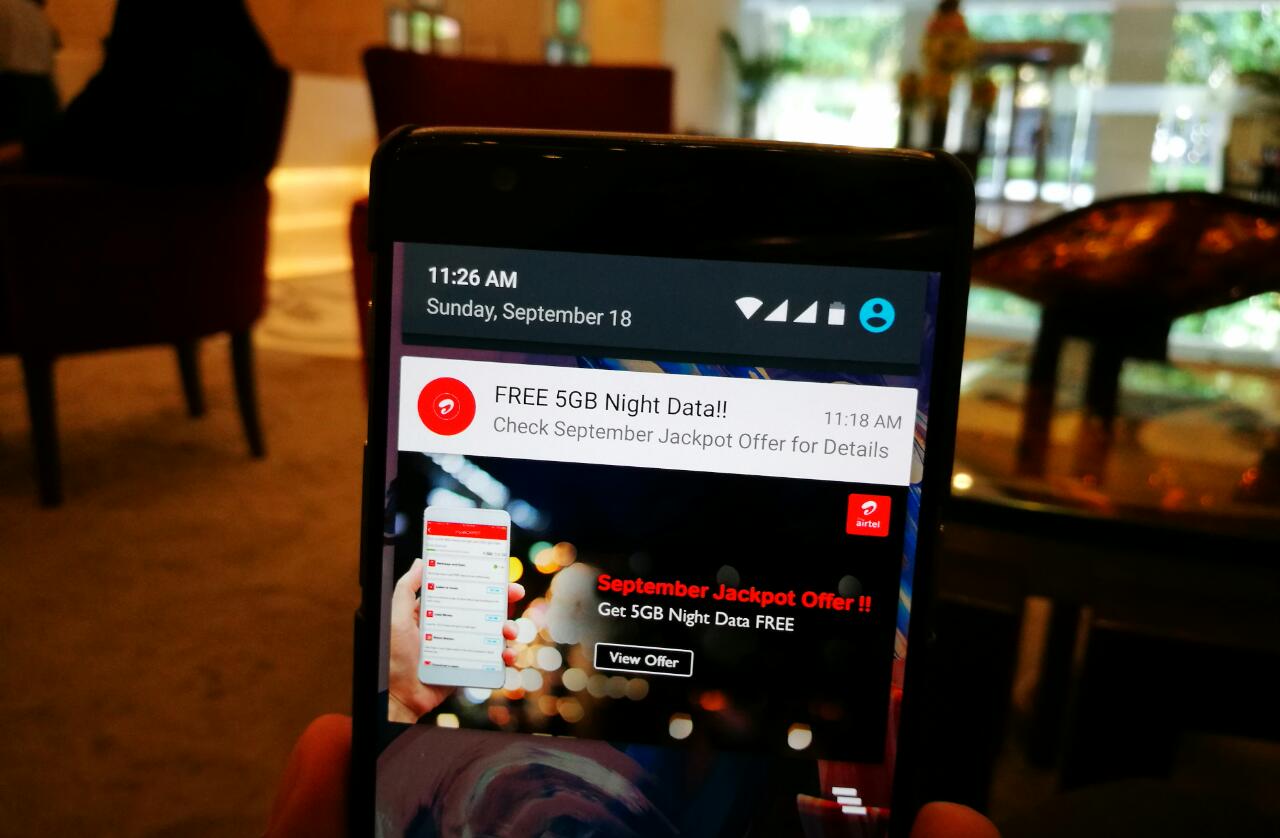 Recharge your number for Rs. 200 or more and get 1GB FREE data
Play music on Wynk and play more than 10 songs this month to get 500MB free data
Load money – Load Rs. 100 or more to get 500 MB data
Download a game – Download Pro Cricket 2017, Cut the Rope 2 or any other game on the Wynk Games App to get 500MB data
Watch Jazbaa – Play Aishwarya Rai's Jazbaa or any other movie on the Hooq channel on Wynk movies app to get 500MB data
Refer and Earn – Get 500MB free data when your friend installs MyAirtel app and does a recharge
Download an album – Download any album on Wynk music, click on Download All to Start, and get 200MB free data
Send money – Send Rs. 100 or more and get 500MB free data
Download 3 games – Download any 3 out of 3000+ games available for you on the Wynk Games app and get 200MB free data
Watch Bajrangi Bhaijaan or any other premium movie on the Eros Now channel or Wynk Movies app to get 200MB free data
Recharge for friend and get rewarded 500MB free data
What's important to know
This is Night data that you are going to get for free and you can take advantage of it only between 00:00 to 06:00 hours.
The offer can be availed only if you get the option of it in the myAirtel app. If you have that option, you need to tap on the button beside every task to get the data.
The credited free data should be used within 28 days after which the same will lapse and will no longer be available.
This offer is different from the 50% night cashback offer that is available with Airtel already.
Download the app and check if you are getting the offer.