We all love to save our digital library (pictures, movies, documents etc.) on our Mac, but when it comes to managing these files, most of us will always look for better options to manage these files. By using Batch Processing or Renaming, you can make it easy. Till now,  third party apps like NameChanger were being used for managing files of your digital library. But with OS X Yosemite and El Capitan, Apple brought a feature that can be used for Batch renaming or managing files.
What is Batch Processing?
Batch processing is the best way to manage multiple files in Mac. This process includes adding important data like date, description etc. and specific name structure so that, it will easy for you to find something in your Mac. Batch Processing is the best way to managing your photo library. In OS X Yosemite Apple brought batch renaming feature into Finder.
How to Batch Rename multiples on Mac OS X Yosemite/El Capitan?
Follow the simple steps described below to batch rename multiple files.
Go to the Finder window
Go to the folder that you want to manage.
Select the Files
Right Click
Rename
Let's take an example to understand it.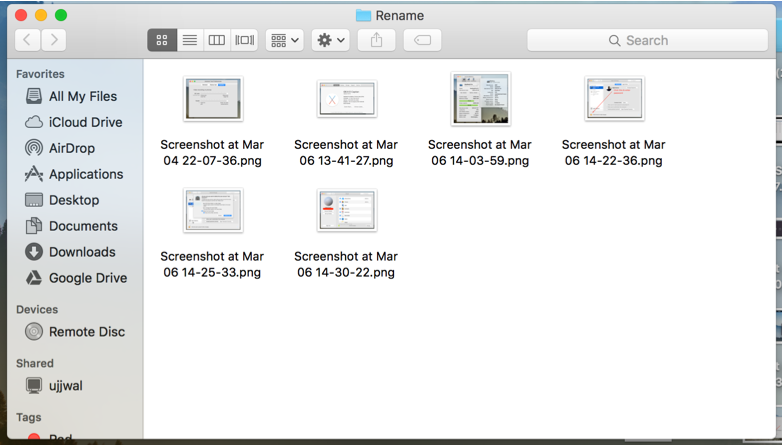 As shown in the above image, you can see a bunch of images that we have in a folder and we can see them through Finder. The names of these images are random and not in order. By using Batch Rename, we can rename all of them at once, instead of renaming them one by one, individually.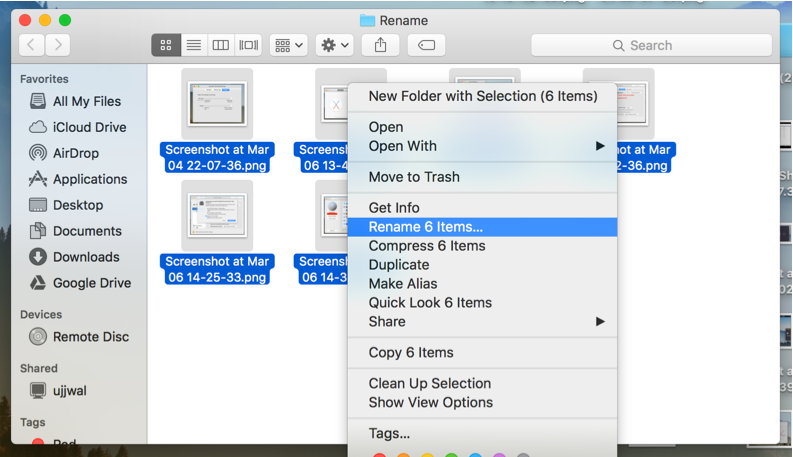 First, we have selected images that we want to rename. Then, RMB or right click on those selected images, choose Rename from the options. After that, Batch Rename window will open. Let's take a look at the options provided in Batch Rename.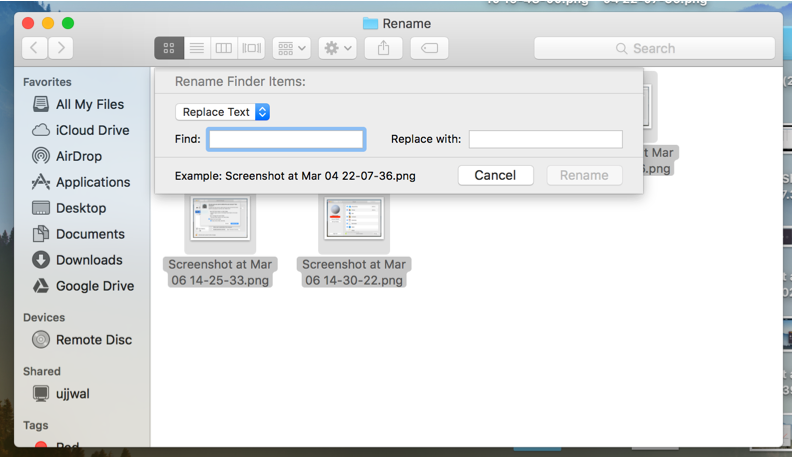 Replace Text: This option allows you to replace certain parts of original file name. In our example we wanted to change "1023" to "party" with description. To do so, type "1023" in Find box and replace it with "party"
Add Text: This option allows you to add text in the beginning or in the end of file name. In our example, we wanted to add date in end, to do so enter 6March2016 in the text field.
Format: This option allows you replace the original naming format of a file with your own one. There are some combination to choose a custom naming format.
Name and Index (custom name with number sequence)
Name and Counter (custom name with counter)
Name and Date (custom name with date)
In each format, you can choose the after and before option like date before name or counter after name.
In our case we choose Name and Index (date after name), which means we have enter Party-6March2016-"in the Custom Format box. By adding dash or dot or space you can separate Name and Date both. By clicking on the Rename, we'll have a new name file format. Batch Renaming save lots of time to manage our library, however OS X Yosemite offers limited features. Third party Automator provides more advanced Features for Batch renaming if you are looking for more.