Logitech has announced two new wireless devices, the Logitech M380 Multi-device Bluetooth Keyboard and the Logitech M337 wireless Bluetooth in IFA 2015 event in Berlin. The Keyboard will be available in market from October and the mouse will be available from September.
The L380 Multi-device keyboard gets its name because of the feature which lets you connect to multiple devices at the same time. You can connect to to your Computer, smartphone or tablet using Bluetooth 3.0. You can switch from device to device using only one button called the "Easy-switch" button.
The Keyboard measures 279 x 124 x 16mm and weighs 423 grams in weight. It can be paired with laptops or PC running on Windows 7, Windows 8, Windows 10 and OS X 10.10 or later versions in both the Operating Systems. It also works with Tablets and Chromebooks running on Chrome OS, Android 3.2, IOS 5 or later and Apple TV.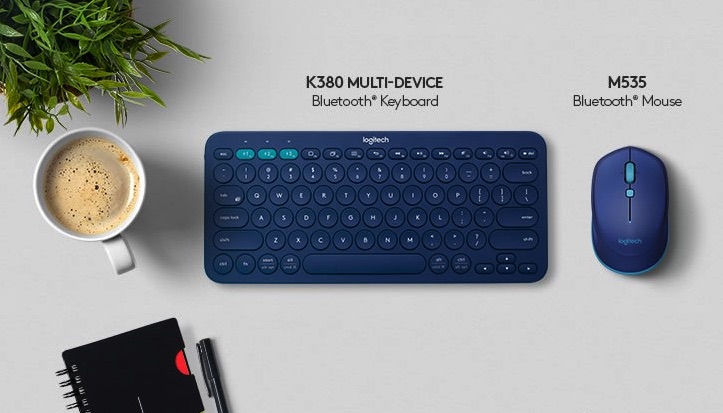 The Keyboard is available in two colors of Black and Blue. It comes with features like power switch, bBattery and Bluetooth LED indicators. The range of the Logitech K280 Multi-device Keyboard is 10 meters. The battery life is said to be up to two years with the help of the AAA batteries which come with the Keyboard.
The Logitech M337 Bluetooth mouse measures 100.5×61.1x33mm and weighs 82 grams. It comes with features like programmable navigation button and supports other functions like accessing the Mission control on OS X running devices by replicating the three-finger swipe gesture. It is available in four colors – Black, Blue, Grey and Red colors. It comes with a rubber grip for having better control on the mouse. It is powered by a single AA battery which is said to give 10 months of battery life.
Logitech provides Logitech Options Software which lets you customize both the keyboard and mouse to enhance your experience and unlock other options as well. The mouse is compatible with Windows 7, Windows 8, Windows 10 and OS X 10.8 and later, it also supports Chrome OS and Android 3.2 and later versions of mobile OS. It has a range of 10 meters connected via Bluetooth 3.0.
The Logitech K380 Multi-device Bluetooth Keyboard is priced at Rs. 2,795 which will be available from October and M337 Bluetooth Mouse priced at Rs. 2,345 which will be available from September.