Lenovo is finally pushing the Android Lollipop update to its much popular 4G budget smartphone, the A6000 Plus, but surprisingly, the basic Lenovo A6000 users aren't reporting about the same. The update was long overdue, but at least there is some good news and the Lenovo users will get to use the latest major version of Android, which we feel, might be the last major update for the device.
Having a build number of A6000_A_0001_15_08_27, the OTA update will be of a size of 1092 MB, and it will update the Android version from Android 4.4 KitKat to 5.0.2 version. The cry would be about the A6000 not getting the update, because there is no difference between the two devices, except for the RAM and internal storage. Though, we might be speaking too early and the A6000 as well might be getting the Lollipop update anytime soon.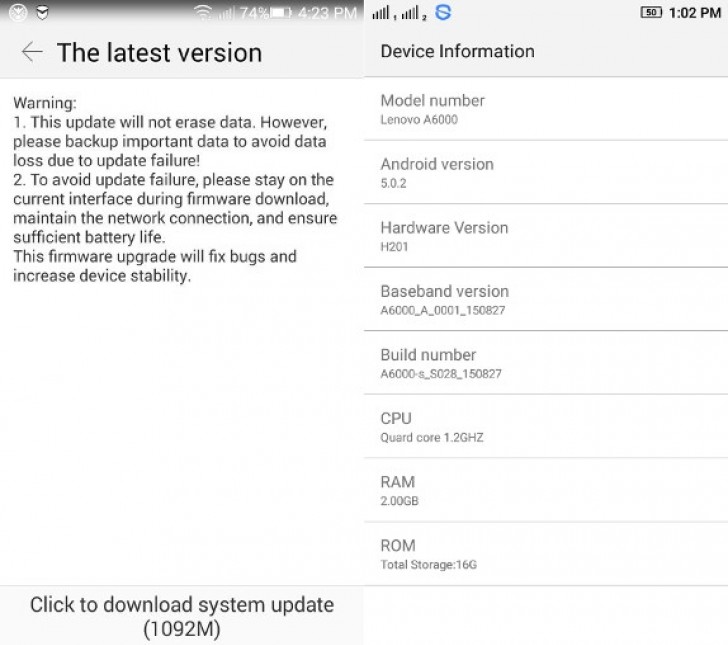 We don't see any change log shared, though there might be those features that we saw on the Lenovo K3 Note, and of course, the UI will look quite different from what it is currently on KitKat OS.
We'll update the news whenever we see the A6000 getting the update (here's an update: The A6000 is also going to receive the Lollipop update very soon), but if you are a Lenovo A6000 Plus user, make sure you check the About section of your device and manually check for the OTA update, if there is no update popup showing in your device in the next few days. It is recommended to backup any important data before proceeding with the update if available, and make sure you are on the Vibe UI, as the phone running on a custom ROM won't be seeing the update at all.
Source: GSMArena