iPhones are known for the pictures they take and practically every smartphone company that announces a new phone compares their camera quality with that of an iPhone. Anyway, it will be better if you could enhance the pictures you take with your iPhone, isn't it? Enter Pictar, a tool that will let you take better pictures with your iPhone.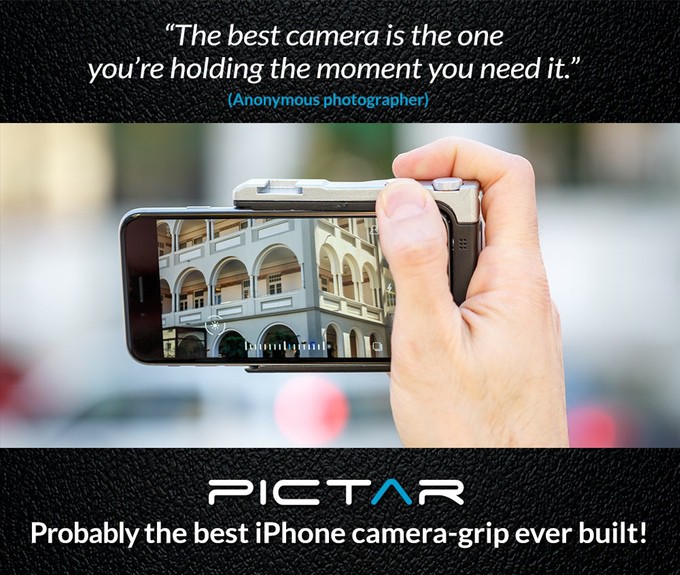 Pictar is an enhancement that you can attach to your smartphone and it will work as a grip to your smartphone along with physical buttons to take a picture and control your camera. It is always better to have physical buttons when taking pictures as it generally enhances the stability of your camera.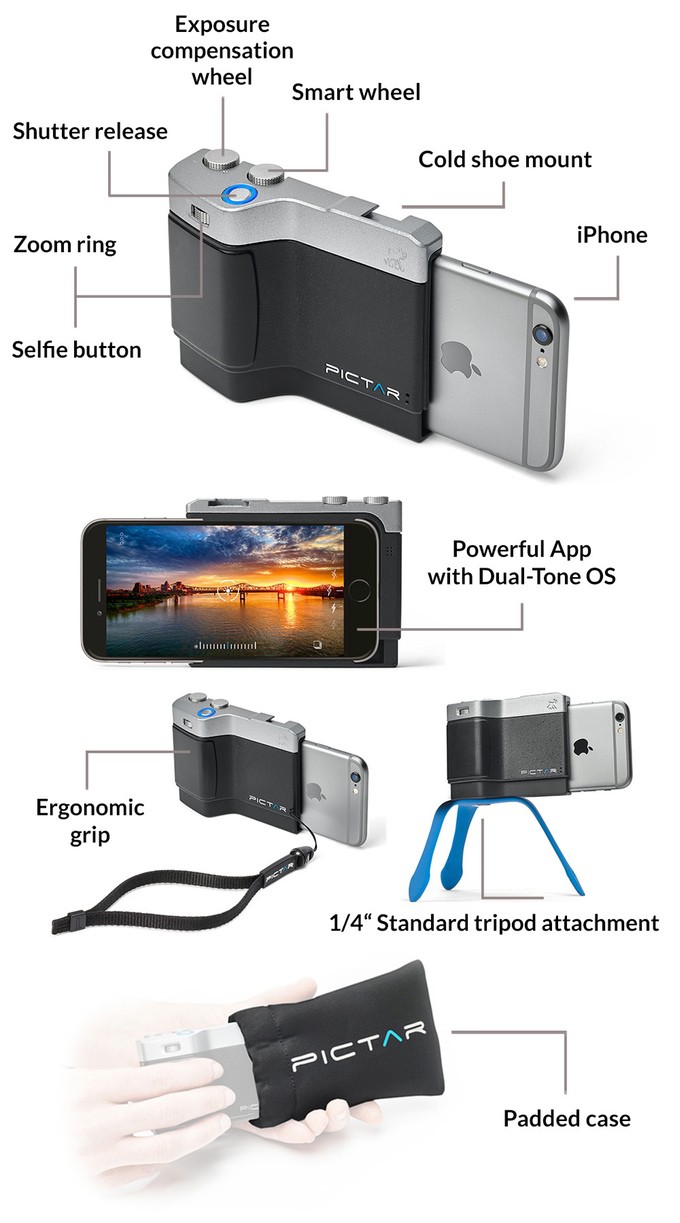 Pictar comes with quite a few buttons that you can use to capture images and manage the camera. It has a shutter button at the top, two rings on the top, one to compensate for the exposure and the other is called the smart wheel. Other than that, it has a zoom ring that you can rotate to zoom in and out on your camera, or press it to switch to the front camera or the rear camera.
Other than the buttons that I've listed above, it comes with two different types of mounts that you can use it with. The one on the bottom is the standard 1/4 inch tripod mount, whereas the one on the top is a Cold Shoe Mount.
For actually using this tool with your iPhone, you'll need to use a third-party iOS app to work with the grip. The grip does not connect to your iPhone via Bluetooth or anything. It makes use of a high-frequency dual tone (18,500 – 20,000kHz) to give instructions to your iPhone.
The Pictar accessory for your iPhone is currently available as a Kickstarter project that you can back for as low as $1, but if you want to get a hold of this accessory, the least that you'll have to  shed out is $75 (as of writing this article). The next slot is for $90 and that also gets you the Pictar camera grip and other accessories that are bundled with it.
While we talk about these projects from crowdsourcing websites, we cannot guarantee or vouch for their delivery or whether they would be successfully made or not, but they are among the coolest ideas people have got.