As the name suggests, the ThinCase is a slim case for the iPhone. But then, what makes us mention it here is not the slimness of the sleek nature of it but the features it brings along for the iPhone users. It is surely claimed as the world's thinnest all-in-one case for the iPhone.
As the description from the makers, ThinCase is the World's Thinnest All-In-One Battery Charging Case for your iPhone 6, 6S, 6+, 6S+, 7 and 7+. More durable, More powerful & More Capable than any other phone case! At less than half the size of other cases, the ThinCase doubles your battery power and adds Protection, a Smart Kickstand + a 3.5mm Audio Jack!
The case is made for all the iPhones from the iPhone 6, and since the latest iPhones don't possess an earphone jack and the audio reliability is through the lightning port, the ThinCase helps by providing one. The case adds up about 4.8mm more to the actual phone's thickness and to help with a better battery life of the iPhone, the ThinCase will have a 3000 mAh battery packed in. The kickstand here is also something different from the regular ones because what you see here is the case pulled out from the front and rotated towards the back to make the phone stand in a vertical orientation.
For the bumpy falls, the case is said to have enough to protect the iPhone from cracking its glass. Since there is a Pass-through charging technology here, while you connect the charger to the case, it will help charge the phone first before charging itself. It takes about 1h45min to fully charge the Thincase, and 3.5hour to fully charge the Thincase and the iPhone together.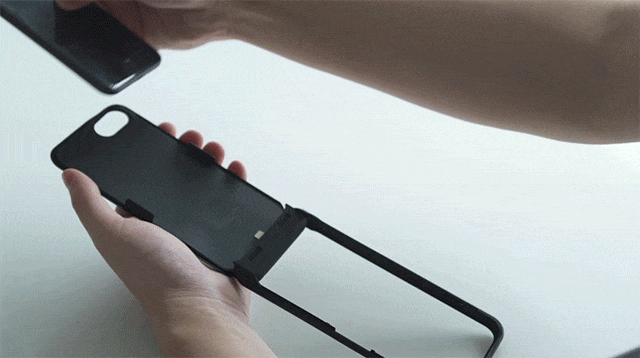 The ThinCase is available for $59 and a combination of two is going to cost $98. It is put up as a project on Indiegogo.
While we talk about these projects from crowdsourcing websites, we cannot guarantee or vouch for their delivery or whether they would be successfully made or not, but they are among the coolest ideas people have got.