Asus recently unveiled their E210 mini PC for industrial uses. The main feature of the E210 mini PC is that it features a fan-less design for improved system performance, silent working environment and also to improve energy efficiency. Asus also had unveiled the Asus Zen AiO PC, alongside the Asus Transformer Book T100HA.
The chassis of this mini PC is 1 liter in size, and in order to the efficiency and flexibility in placement, the Asus E210 also features a VESA-type mount. Asus assures a life cycle of more than 3 years for this machine, thus ensuring better software management and reduced usage of spare parts.
To better help business institutions, this machine comes with Windows OS preloaded, thus allowing companies to create better and more accurate solutions for their requirements. It also features a 4-in-1 card reader, a USB 3.0 port and a USB 2.0 port along with separate HDMI, VGA and COM ports as well. This mini PC has dual display support as well.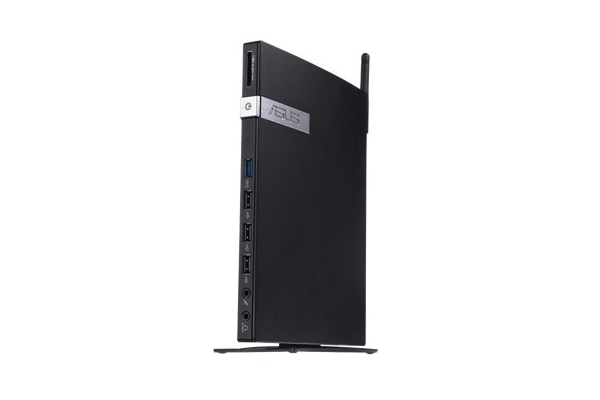 The Asus E210 also features Asus's Energy Processing Unit [EPU] technology, which is the first of its kind and is exclusive as well. This technology helps to analyse real time CPU loads, thus ensuring better system stability, longevity of components used as well as energy saving.
Other hardware specifications of the Asus E210 Mini PC is listed below:
Dual core Intel Celeron processor.
Intel HD graphics.
2 GB RAM. Expandable up to 4 GB.
SSD support up to 64 GB.
Headphone and Microphone jacks available, along with 1 external WIFI antenna, a Kensington lock, a RJ45 LAN port.
The E210 is  29mm tall and weighs in at just 690g.
The only available color option in Black.
Other products included when purchasing the E210 are as follows: a Keyboard, a Mouse, a VESA mount kit, an AC adapter and a Power cord.
That was a quick overview of the Asus E210 Mini PC along with details on its hardware specifications. Looking for a decent monitor alongside this? the same company has come up with a Asus PA329Q is a 32-inch 4K Monitor.