Apple as a company started up by selling computers and later they transitioned and added more things that sell like hotcakes in present times. Their lineup of computers that they themselves manufacture are known as Macs. Macs come in all shapes and sizes. You can get an iMac which is an all in one desktop running Mac OS X or you can go for a MacBook. You also have options to get a Mac Mini or a Mac Pro. Macs comes with great build quality and excellent software and hardware, but not everyone can afford to buy a new one. Buying a used Mac is
Buying an old Mac – Important Hardware aspects to check
The special thing about Macs is that they come with great build quality and excellent software and hardware combination, but not everyone can afford to buy a new one thanks to the huge price tags that Apple puts on these computers. For many people, buying a used Mac is a better option compared to getting a new one, especially if one can get it in mint condition. But there are different aspects that you have to check, before buying a used Mac. You have to check the physical appearance, hardware & software of used Mac before sealing the deal. Let us take a deeper look at this topic.
Check the Mac's Model Number & other important hardware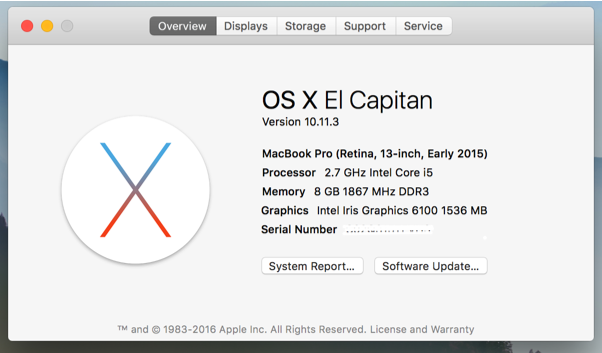 This is the first thing that you should check on used Mac. By doing this you can verify the model number, yeah of launch & hardware that the Mac has. To check this, follow the steps given below.
Open the Menu bar and click on the Apple icon.
Now click on the About This Mac option and this will open a new window.
You will find the Mac model number, year of launch of that specific Mac as well the hardware.
By doing this you will find the amount of RAM that Mac has along with the processor, version of Mac OS, etc. And if you need detailed information about hardware on that Mac, then click on the System Report button to get it.
Check Battery of the Mac
The best thing about Apple's Mac of non-user replaceable battery is that after its first 1000 charge cycle, it can hold up to 80% charging. In layman's terms, this means that Apple uses top of the line batteries in their MacBooks. So, if you are buying an used MacBook, then to be on the safe side, it's better to check battery status before buying.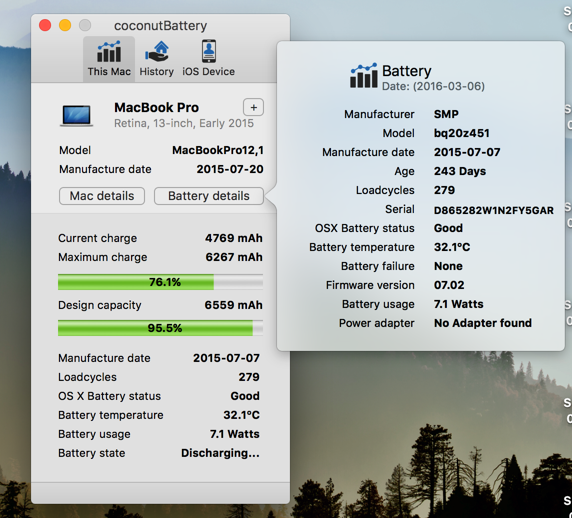 Coconut Battery is the best tool for this work. It provide all the information that you need to know about a Mac's battery. Using this utility, you can also check the status of the battery and details about the health, age and cycles that the battery has been charged for.
Physical Appearance and other things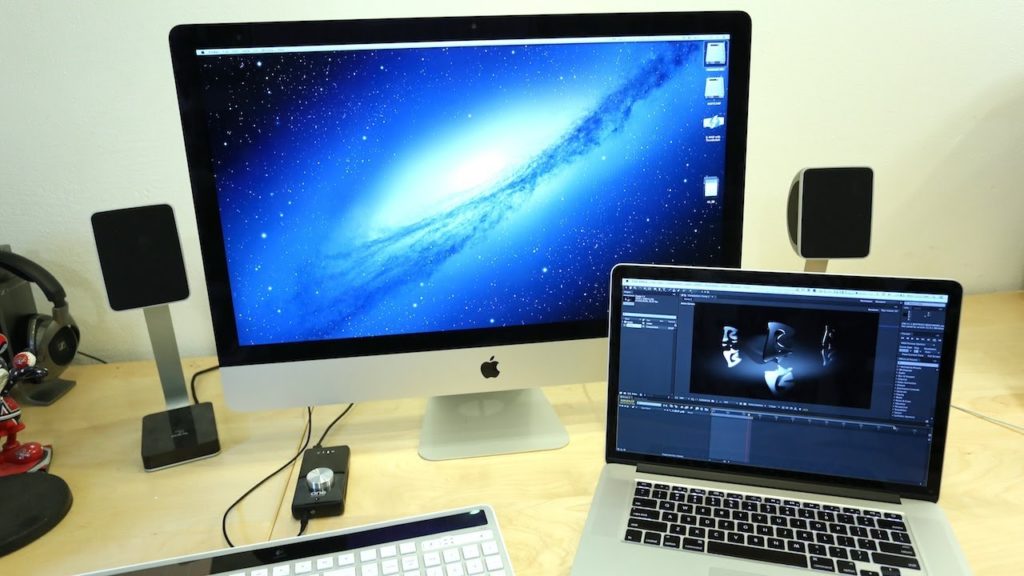 Be it an iMac or a MacBook or even a Mac Pro, they all look really good when it comes to the physical appearance department. When I first bought my MacBook, I was actually awed by the fact that it looked so good. Before buying a used Mac, you need to make sure that you check the appearance & other hardware related information of used Mac and compare it to the new one. This includes scratches, warranty period, defective parts etc.
Important Software aspects to check
Check for the Others Users
Once you get to the decision that you are sure to buy that used Mac you are eyeing,then the first thing is to check for Other Users on the same Mac. To do so, follow the steps below.
Check the Dock and open System Preferences. 
Now open Users & Groups. This will show a list of users on the system.
In the same window, you will find a padlock icon. Click it to unlock the settings.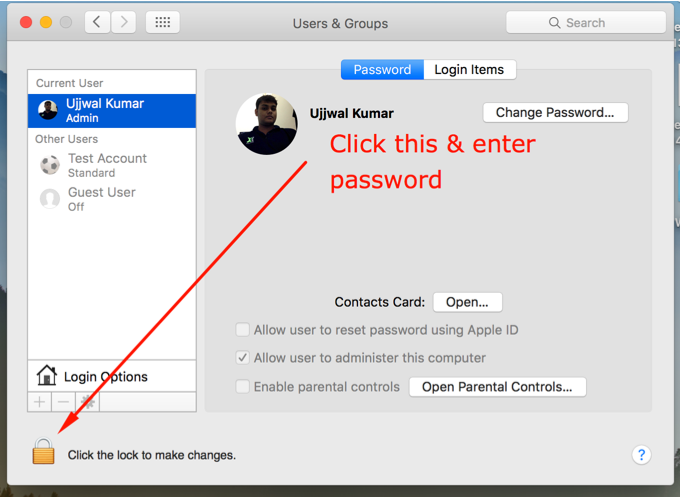 After the options are unlocked, click the user that you want to remove.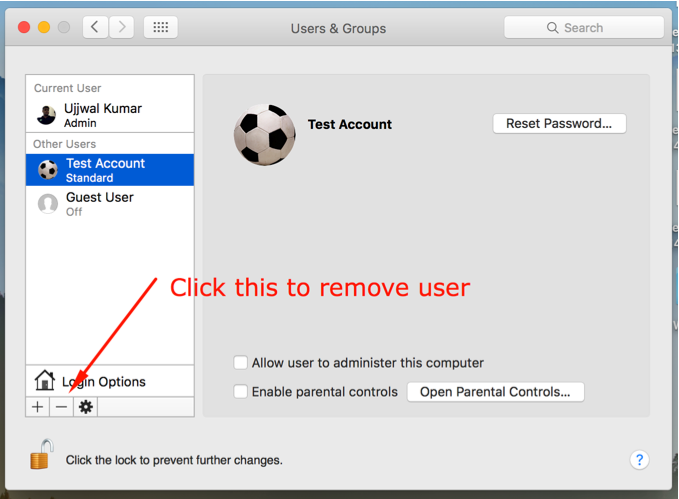 After the specific user has been selected, just click on the remove (-) button below.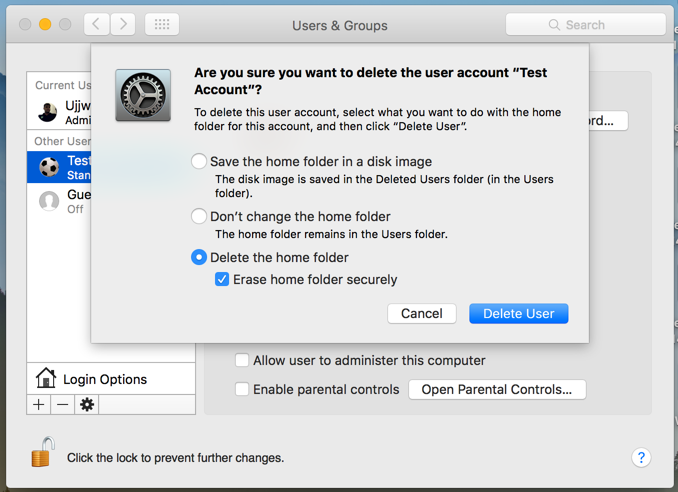 Now you will be asked if you want to really delete the users and files. You can choose to save the files or simply delete everything.
Check for Previous iCloud Credentials & Remove them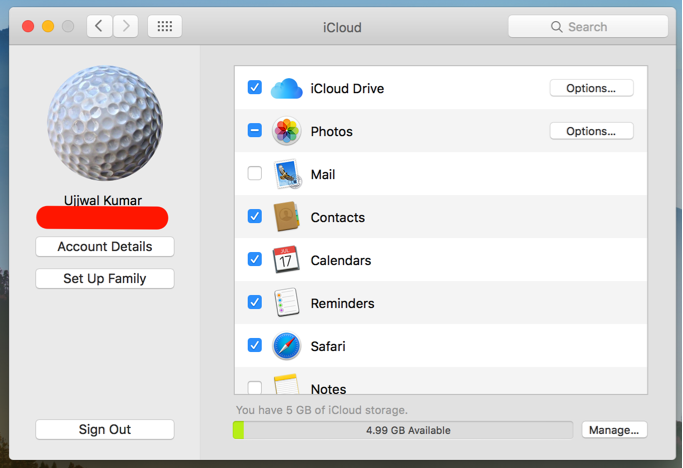 Make sure you remove the old iCloud credentials if the person you bought the Mac from has forgotten to remove it. Just go to System Preferences > iCloud and then just click on the Sign Out button.
Verdict
Macs are no doubt great computers but when you are buying an used Mac, you need to make sure you get to know and check a few things before buying a used Mac. These are some of the things that you need to check before buying a used Mac computer. If you have any questions, you can get them cleared in the comments section below.