Microsoft is in news today, again. After its announced earlier that it is acquiring LinkedIn, the Microsoft's Electronic Entertainment Expo event in Los Angeles shows the official unveiling of the new Xbox One S. It mainly is about the change in design, as the console now is slimmer and smaller.
The new Xbox One S has a smaller design, which is about 40% smaller than the previous console. Apart from that, the specs include a storage of up to 2TB, and there will now be support for 4K videos. Watching Blu-ray movies and streaming video is possible on that resolution. HDR Gaming is also a new inclusion in the list of features, but that is not it. The Xbox One S comes with a new controller.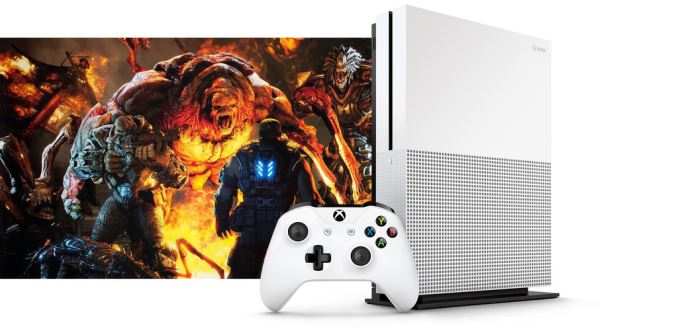 One of the reasons why Microsoft's Xbox consoles were criticized were for the large console body. Microsoft dealt with that well, with almost no compromises to the features and including some much-needed upgrades. A new IR blaster is added to the front of the console, and the Xbox One S now has USB port and a pairing button on the front, which were all earlier on the back.
The Xbox One S console also gets ride of the Kinect port, and now if you have to connect your Kinect sensor to the console, Xbox Kinect Adapter for USB will have to be used. For those who already have the Kinect, Microsoft is offering the adapter for free to the Xbox One S buyers.
Also, there's no power brick now. Yes, true! The new Xbox One S has the power control within the console. There'll be no huge power adapters and the stabilizing units lying beside the console.
The controller now has a textured grip and there is a Bluetooth support for wireless connectivity with Windows 10 devices. While the controller is included in the pack of One S, an individual controller will cost $59.99.
The new Xbox ships in August 2016 and the price is set at $299 for the 512GB option. The 1TB console costs $349 and the 2TB one costs $399. The Xbox One Vertical Stand will also be available for standalone purchase for $19.99 USD.
Alongside this, there was an announcement of the Gears of War 4 game, which comes with the "Xbox Anywhere program", and buying it for Xbox will give a Windows vesion for free, and that is a good thing because the game supports cross-platform play. It is the new Robot White color that the console boasts.