Apple has just introduced the All new MacBook with a 12-inch Retina display, and while keeping the thickness of it at 13.1mm, the MacBook has a weight of just 2 pounds. In that, is the thinnest retina display ever used, and all-new Force Touch trackpad along with a Apple-designed full-size keyboard.
"Apple has reinvented the notebook with the new MacBook, and at just two pounds and 13.1 mm, it's the thinnest and lightest Mac ever," said Philip Schiller, Apple's senior vice president of Worldwide Marketing. "Every component of the MacBook reveals a new innovation. From its fanless design, ultra-thin Retina display and full-size keyboard that's 34 percent thinner, to its all-new Force Touch trackpad, versatile USB-C port and breakthrough terraced battery design, the new MacBook is the future of the notebook."
The best part about the new MacBook 12-inch is that the thickness keeps it 24% thinner than the 11-inch Macbook Air. The 12-inch Retina display has a resolution of 2304 x 1440 pixels, and it has a 16:10 aspect ratio.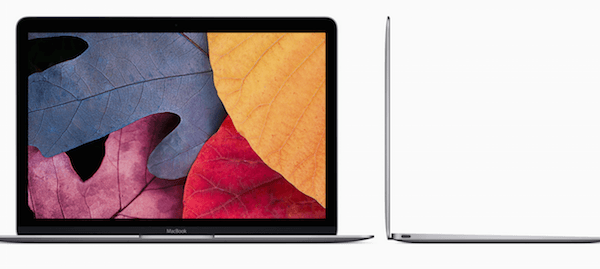 The new trackpad features built-in force sensors that allow you to click anywhere and haptic feedback that provides a responsive and uniform feel. The Force Touch trackpad also enables a new gesture called Force Click, a click followed by a deeper press, for tasks like pulling up the definition of a word, quickly seeing a map or glancing at a preview of a file.
The New Macbook 2015 is said to be having a full day battery life, with up to 9 hours of wireless web browsing and up to 10 hours of iTunes® movie playback. The new MacBook also features a next-generation USB-C port that is incredibly small, yet extremely versatile and even more user friendly. A new industry standard, USB-C supports higher wattage charging, USB 3.1 Gen 1 (5Gbps) data transfer and DisplayPort 1.2 all in a single connector that's one-third the size of a traditional USB port.
These MacBooks are said to be running the OS X Yosemite version, and iMovie, GarageBand, iPhoto, and Pages, Numbers and Keynote come free with every new Mac.
Pricing and Availability of new Apple MacBook 12-inch 2015

These new MacBooks will be available from April 10th, and the pricing is as follows:
1.1 GHz dual-core Intel Core M processor with Turbo Boost speeds up to 2.4 GHz, 8GB of memory, 256GB of flash storage and Intel HD Graphics 5300: Starts at $1299
1.2 GHz dual-core Intel Core M processor with Turbo Boost speeds up to 2.6GHz, 8GB of memory, 512GB of flash storage and Intel HD Graphics 5300: Starts at $1599