Security of your computer OS is always important, and you need to manually set up things to keep safe from virus, malware, and spyware, even if the OS maker claims that they have secured the OS enough to keep away from worries. Windows 10, the latest OS from Microsoft comes with Microsoft's own Antivirus application, but it is always a good idea to look for a dedicated third party application that can get the job done.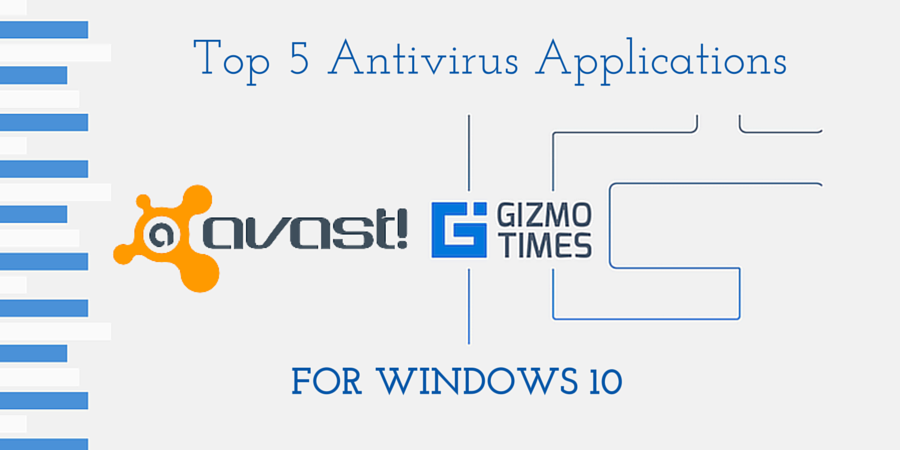 Today, in this article, I'll share with you the top 5 Antivirus applications that you can install on your Windows 10 computer without causing much effect on the performance of it, and yet gaining a lot in terms of security. We've also compiled a list of the ultimate Windows 10 Tips and Tricks that you need to check out if you're using Windows 10.
Out of all the applications listed in this article, some are free, whereas some require you to purchase a valid license in order to get the required level of security, but nonetheless, they are great applications.
Avast Antivirus
Avast Antivirus is one of the leading free antivirus solution for your Windows computer. They provide you with great features and daily updates to the virus definitions so that you're protected from any new virus infections as well. Avast also offers a paid antivirus, along with other paid products as well, but for a casual user, the free version gets the job done pretty well. Avast also tells you when certain applications installed on your computer are out of date, just to provide a better protection for you.
Bitdefender Antivirus Free Edition
Bitdefender is another great free application that gets the job done without too much hassle. Once you've set it up, it requires almost no user interaction to protect your computer from threats. It does not offer as many features as the free version of Avast, but the ones that this offer are also good. It just acts as a great virus protection tool. Bitdefender also has a paid version that offers more protection and features compared to the free version.
AVG Free Antivirus
AVG Free Antivirus is probably one of the oldest antivirus that I can remember. I've used it on my Windows XP computer long back. Even today, it offers a free variant that provides identity protection, data theft protection, email scanning for clients like Outlook and Mail, and protection against fraudulent websites. AVG also offers a paid version that offers extended protection.
McAfee Antivirus
McAfee is the one that a lot of OEMs bundle with their new computers, and offer a free trial of that for a limited period, after which you need to pay to continue the subscription. McAfee costs around $90 and offers a lot of features, including parental control and spam mail filter. If you're going paid, McAfee is one of the best options out there that does not affect the performance of your computer when running in the background.
Quick Heal Antivirus
Quick Heal is one of the most popular solutions in India, as they offer a killer deal, and protect your computer to a great extent. Quick Heal Antivirus offers some great features like Internet Security, email scanning, parental control and what not, at a reasonable price. You can head over to the Quick Heal website to purchase your copy of Quick Heal.
Do let me know in the comments section below which of these applications did you decide to go with and why. I personally use the Avast free edition, and I have been using that for a long time now. I'm happy with the way this antivirus works and alerts me, even when I'm just visiting a not-so-safe website.