e-Bikes and e-Cars have been revolutionizing the world currently. Commuting in bicycles has been a very keen idea to control traffic and reduce the pollution in the city. Not a lot of people out there use bicycles to commute within short distances. But e-Bikes are getting better day by day and attracting people with its cheap, affordable and effective performance.
Stashed your old performance MTB, Hybrid or Roadie away in your home lying idle? GeoOrbital, the company based in Boston, has come with this innovative idea, which can make your bicycle into an e-Bike just by swapping the front wheel with the GeoOrbital wheel.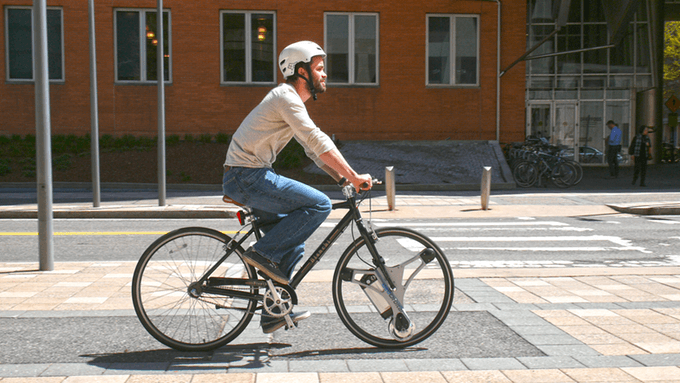 Their campaign on KickStarter is taking the internet by surprise everywhere. Their goal of $75,000 has been over pledged for over $8,00,000 with still four weeks left of the campaign to finish.
The GeoOrbital wheel just takes 60 seconds to swap with your current front wheel on your bike without the need of any tools. The company believes that the idea of the GeoOrbital wheel has been inspired by the Tron Motorcycle.
All you need to do is, remove the front wheel of the bike by the quick release and put on the GeoOrbital wheel. Fix the throttle to the handlebar, which will be operated with your thumb and get ready to ride!
The GeoOrbital wheel comes in two different sizes, 26in as of in a standard adult hybrid bike and 700c as in standard road bikes with rim brakes.
According to the company, the wheel is equipped with a top notch 500W brushless DC motor which can get you going at a speed of 32kph in just six seconds and you can pedal then after to keep moving faster. So do not forget to get an ass-saver unless you want your back with dirt at that speed! They used the Panasonic's 36V removable Li-ion which has a pedal assisted range up to 80km for 700c wheel, whereas, 48km range for the 26in wheel with a full charge. The more you pedal, the more distance you can expect, and you can take a spare battery if you need it for any long rides. The battery also has a built-in USB port from which you can refuel your mobiles or bike lights. Need a power bank? Carry this huge capacity thing while on a trek!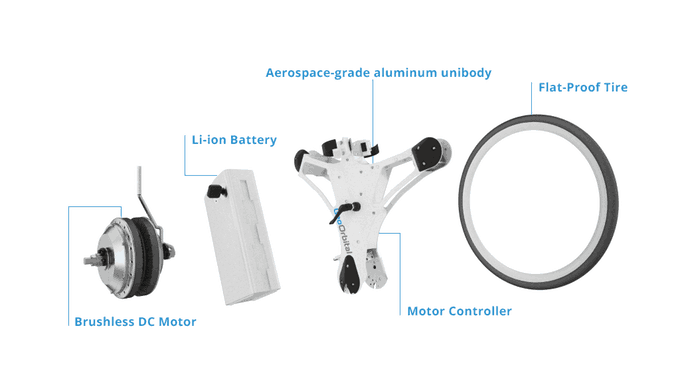 The tire is a flat-proof solid foam tire. The company says that you'll never have flat and the tires weigh and act the same as in a traditional bike tire. The wheels are designed to ride in all weather condition. So, there won't be any problem even if it is snowing out there.
You have eight rewards to choose from, for your donation. The estimated delivery for the wheel is in November 2016. Check out the campaign on KickStarter and back it if interested. As we have already seen, these biking products are creating sensations in crowdfunding campaigns. The SpeedX Leopard, complete carbon aero road bike has taken KickStarter by a storm creating records. What do you see then? Do People love bikes?
While we talk about these projects from crowdsourcing websites, we cannot guarantee or vouch for their delivery or whether they would be successfully made or not, but they are among the coolest ideas people have got.