Asus has a huge list of smartphones under the Zenfone series, the Zenfone 2 laser is one such device which has been quite popular in the mid-range segment. The main aspect of the device is the Laser Autofocus which brings faster and better focus to the camera. With Zenfone 2 laser launched quite some time back and there being many other devices in a similar price range like the Xiaomi Redmi Note 3, LeEco Le 1s and Honor 5X.
You might be planning to change your device from the Asus Zenfone 2 Laser to any other device and before doing so it would be best to transfer all your data and then format the device before selling or giving it to others.  This will erase all data and settings along with apps etc from your device.
Check out: How to capture screenshot in ZenFone 2 Laser
Note: Make sure that all the data like photos, messages, videos, apps etc are backed up before going for the Hard Reset or Factory Reset. This will permanently delete all your data and it cannot be restored back again.
Steps to Factory Data Reset Asus Zenfone 2 Laser:
Go to Settings from the Notifications panel or App drawer
Under Personal section, you will find the Backup & Reset option at the end of the list, tap on it
In the Backup & Reset page you can find many options like Backup my data, Backup account, Automatic restore and at the end, under Personal data, you will find Factory Data reset option.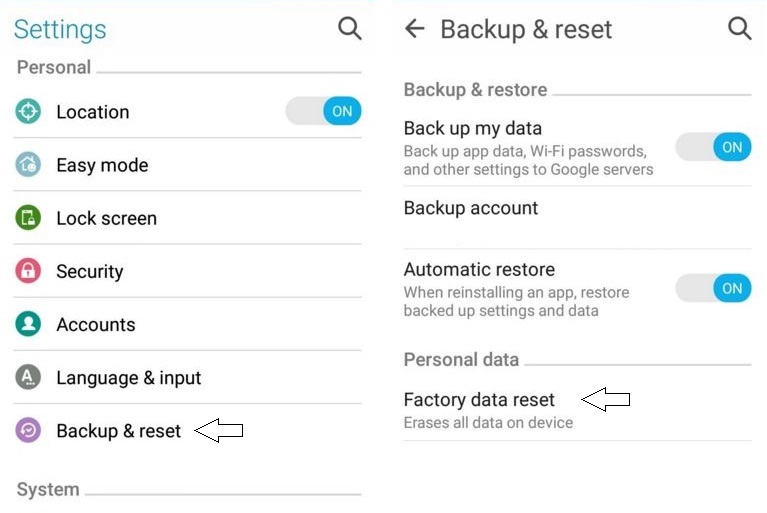 Tap on it and you will be taken to a page with the warning "This will erase all data from your device's Internal storage" mentioning all the locations from which your data will be lost.
Tap on the Reset device button at the bottom of the display if you have backed up your data.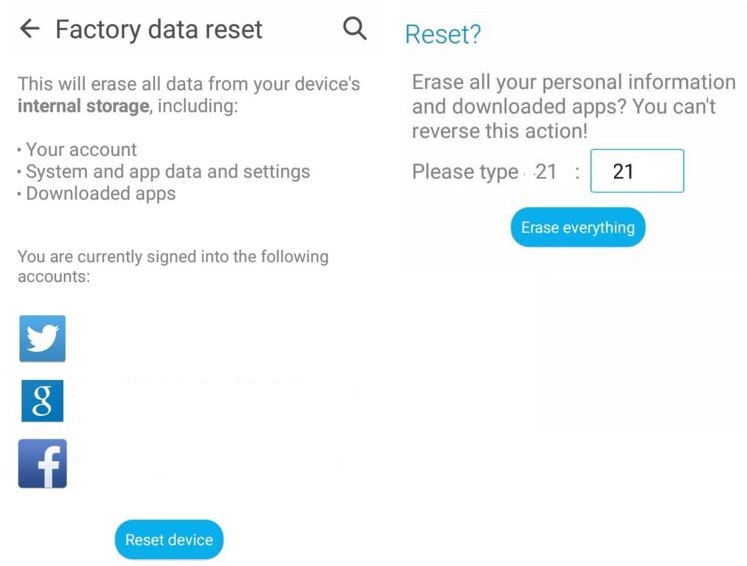 You will be asked one more time with a number displayed to be typed in the box and then Tap on Erase Everything.
This will erase everything from your device and make your device brand new similar to when it was taken out of the box. It will go back to the original state and if you want to use it again you need start from step one by setting up the device from beginning. Pick the best Zenfone 2 Laser variant by checking out our guide.