The Samsung Galaxy S8 and S8 Plus are turning out to be one of the best smartphones of the year 2017. The Galaxy S8 and S8 Plus are launched with 5.8-inch and 6.2-inch screen respectively. Samsung has decided to put up the 4GB RAM on these as they feel that smartphones won't be needed more than this at this stage. Consequently, the Galaxy S8 comes in two variants, powered by Exynos 8895 or Snapdragon 835 which will never compromise on performance. However, the Snapdragon 835 variant is reported to outrun the Exynos variant of the phone.
If you are still looking to make your S8 perform much better, Samsung has introduced a new section in settings called "Device Maintenance" to tweak the device performance and memory cleaning stuff.
The below-listed features will also work the same on the Galaxy S8 Plus too.
Device Maintenance
This is a separate section in the Settings menu where you can change the battery profiles, change it to different modes, clean duplicate or cached files in storage, clean memory, and enable security. There's also an "Optimise" button which you can use to close the background running apps, free up storage by deleting cache files, and it will detect any defects in the system.
First off, in the battery section, you can put it into power saving mode. There are two, medium power saving and maximum power saving which have different standby times. You can also check the battery stats in this section how much each of the apps is consuming your battery.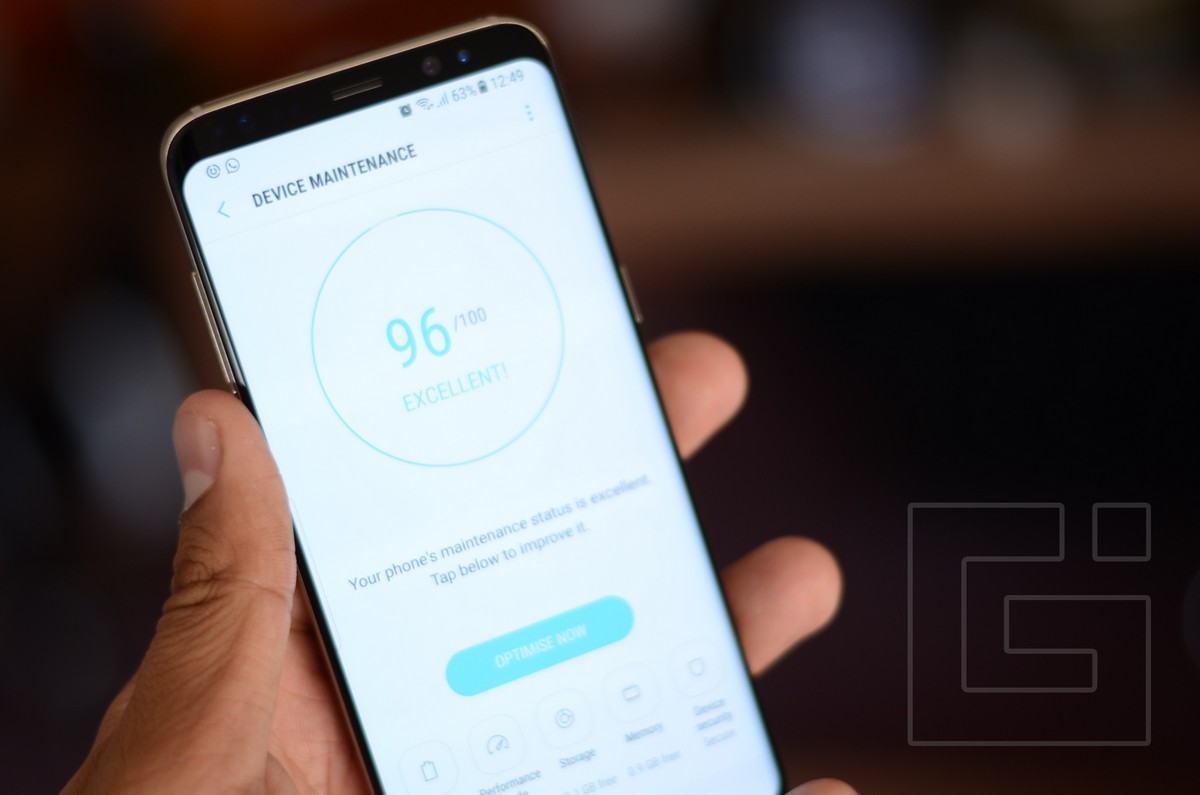 The second one is performance section where you can change the performance of the battery. It is always recommended to be in the optimized mode. However, if you want to play some high graphic games, consider putting it into gaming mode which will boost your phone's performance. Also remember that, when the device is in gaming mode, it will consume more battery fastly. You can also change the resolution of the device as it comes in FHD+ mode by default and you can take it up to QHD. Again, this will eat up the battery.
The third one being storage manages your storage by detecting duplicate files, junk cache files, ads, less used files and asks you to delete them. All you need to do is clean now and cleans up all the junk files that are of no use. And, the memory section keeps a look on the background apps and kills them freeing more memory on the RAM.
In the Device Security, you have anti-virus program which will scan your phone frequently and cleans any trojans or malware that manage to creep into your phone. But, you'll have to first activate it and then you can scan the phone. It also has a shortcut to security and privacy in settings to keep your device safer. Good thing is that the anti-malware system is powered by Intel security here.