With iOS 9, Apple has finally tried to understand what users of Apple devices actually want out of iOS, and have managed to add a lot of features to the iOS 9 operating system, that we all have been waiting for so long. This announcement was done at WWDC 2015 event.
Apple announced support for keyboards from third party keyboard developers on their iOS 8 operating system last year, and it was much welcomed by almost everyone.
This year too, along with all the software features provided with the iOS 9 operating system, there are also some major functionality upgrades for the keyboard function. And if you are interested to know what are some of the new keyboard features that you get with the iOS 9 update on your supported Apple devices, then today we bring you a list of all the new keyboard features that can be found in the iOS 9 release. Not to forget, iOS 9 brings multitasking feature as well, to the iPads.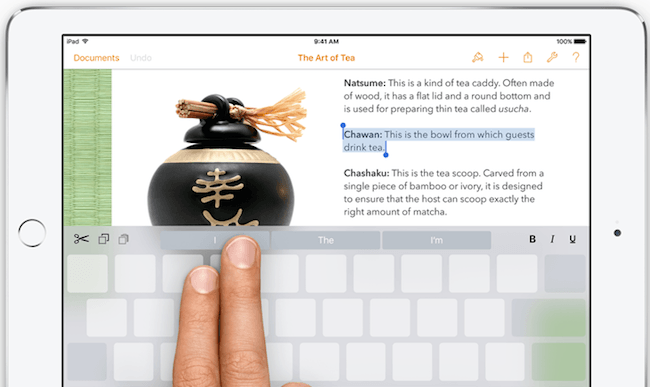 What are the new iOS 9 Keyboard features:
Below are a list of keyboard features that comes with the iOS 9 operating system:
A new keyboard design with updates layout design distinguishing upper case letters with lower case letters. Until iOS 8, if you switched between the upper and lower case in the default Apple keyboard, you would not see a change in the keyboard layout showing whether you are typing in upper or lower case characters, as you would see in other keyboards everywhere. This was kind of annoying to many users out there. And we are glad that Apple has finally realized this issue and fixed it in their iOS 9 release.
Now the QuickType feature has a new inbuilt Shortcut Bar, which helps in functions like adding attachments, cut copy and paste, format etc. The shortcut bar can be found on the either side of the QuickType word suggestions bar above the keyboard.
Now, on iOS 9, swipe with two fingers anywhere on your iPhone or iPad screen and get the text selected and the on screen cursor also will appear. Earlier, this feature was available only if you did jailbreak your iPhone or iPad and installed the SwipeSelection tweak.
Additional keyboard shortcuts have been added if you attach a wireless keyboard to your Apple iPad via Bluetooth. A lot of the shortcuts work in the Apple iPad the same way it would work on the Mac operating system. To know about all of the available keyboard shortcuts for a particular application, press and hold the Command+Option/Control keys.
Finally, the above mentioned were some of the new iOS 9 keyboard features available. If you felt this article interesting and informative, then please do share it on your social media profiles. And if you would like to add on some more keyboard features provided by the iOS 9 operating system, that we have missed out here, please do leave them as comments below. Did you know that Apple Music is also announced?