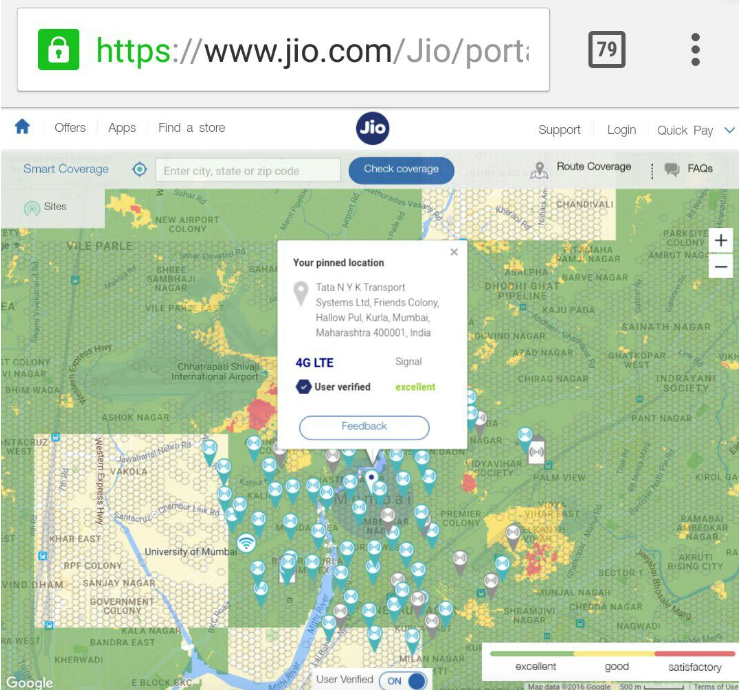 Not long ago, Airtel India had launched the Open Network platform where users could check the network coverage and complain about it, to see it getting fixed by the network provider. This was for the transparency between the company and its subscribers and to make the overall service better. Reliance isn't going to stay behind with this, as the Jio portal already has the section for Coverage checker, named as the Smart Coverage map.
The network is only in the testing phase right now and that's one of the reasons why Reliance is still offering the SIM cards through its Preview Offer. And if you follow the social media updates closely, there are many complaining about the poor network and speeds already, which is expected to get better when the commercial launch happens.
But it seems like Reliance doesn't want to hide anything from the Jio 4G users and thus is the transparency to talk about the towers and network, and the openness to help the subscribers who are facing any issue. The Jio Smart coverage map will show the information about the network coverage, data speeds and also the network tower information.
While Airtel has been facing a hard time because of the pricing set, after it is rumored that the prices of Jio network will be very low compared to the competition and even offering lesser-priced data packs for the prepaid customers, Reliance is gaining subscribers during its testing phase and if it launches with attractive plans, it already has a good number of subscribers to serve to.
As for the Smart Coverage feature, it will be available for both, mobile and web users on Jio.com and if you are facing an issue with either data or calls, you can report about it with your location mentioned. One of the advantages here would be that Jio will start taking feedback and making the services better right from the launch of the services, and it will make it easy for users to check if the areas where they live have a good network already or they can choose a competitive one.
Source: TelecomTalk