The IPL 2016 season has begun, and I'm sure you might be like several others who might not be getting the luxury of watching the match on TV, thanks to the travel time or work timings, or any other reason. Not to worry, there are enough options available for your smartphone to keep you connected and well updated about the progress of IPL matches.
Here, I waited for the IPL to begin so that I can check what are the best apps or websites that provide a good score update, commentary, stats, match report, and analysis, for those who follow IPL closely every year.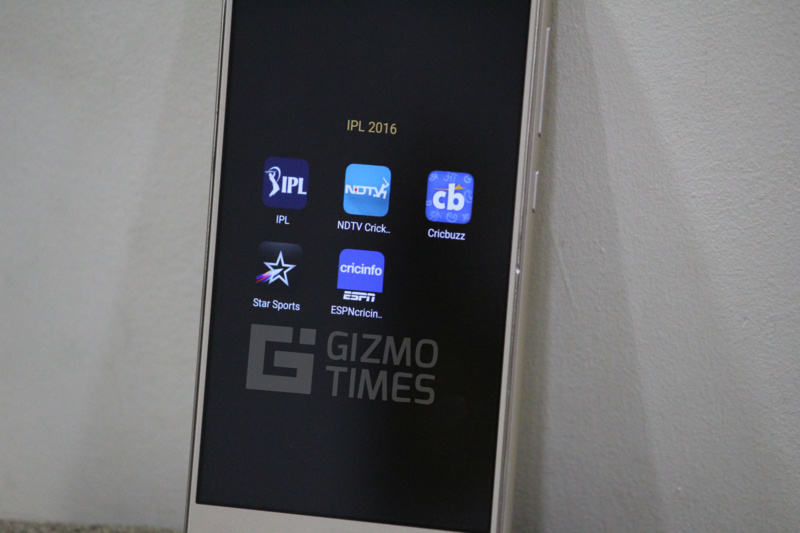 Following IPL via. Mobile Browser
ESPNCricinfo – The first go-to source for not just IPL but also for any other cricket related stuff. It has always been a great resource, and the website covers IPL season very well with stats and pictures after every match.
IPLT20.com – The official source of information, and it is very regularly updated with the scores and information, but it isn't very easy to navigate through and is very heavily loaded with graphics.
Cricbuzz.com – A very good alternative for those who quickly would want to check the score, some fun-filled commentary and also, it is very good to view on a web browser than on the mobile.
Apps for Android to follow IPL 2016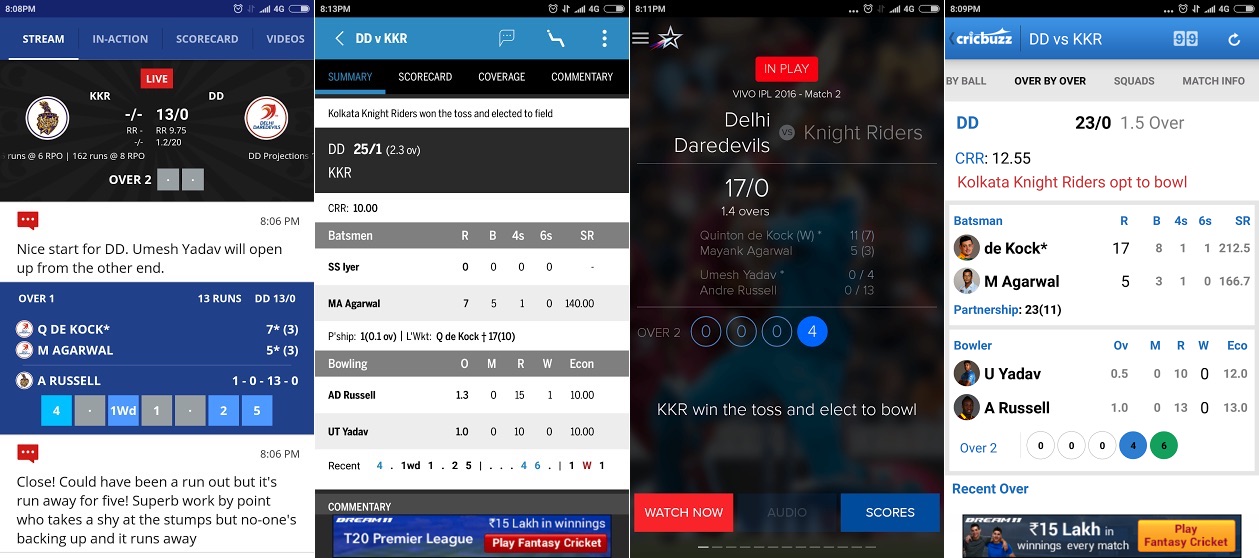 Official IPL App
This app is obviously expected to do a lot with providing information because it is the official one. And it does that quite well, with live stats during the match, and quick updates of videos uploaded from time to time during the game. It does seem like the quickest in updating the score, at par with ESPNcricinfo app.
ESPNcricinfo
Just like the web version, this is a large bank of cricket data, live scores, stats, tables about player rankings, ratings and a lot more. You might want to have an app for the push notifications, though, sadly they don't have an app for favorite IPL team for push notifications as it is limited to the International teams.
Cricbuzz
The app although is advertised a lot recently, it doesn't have so much that the website has, so it could be an option only if you are a fan of Cricbuzz website. The best part about the app is that it isn't limited to English, and there are language options like Hindi, Marathi, Kannada, Telugu, and Bangla.
Star Sports
A beautifully designed app, the Star Sports app doesn't give a lot of information about the game, and it isn't quick in score updates as well. The only advantage with this app is that you have the live streaming of IPL 2016 available (with a delay of 5 minutes), and no other app or website except Star Sports has the right to do that.
NDTV Cricket
The final alternative, thus last on the list, only if you are not happy with any of the apps above though I'm not sure why you would not want to use one of those apps. It is decent enough and has the live score, but not a lot of interesting information. Still, much better than the others that you would see on the Play Store.
Apps for iPhone / iPad to follow IPL 2016
Using an iPhone or iPad, or the iPod Touch to check the scores regularly? Here are some of the apps you can try to use to follow the IPL 2016 tournament regularly.
ESPNcricinfo on iOS
Just like the Android app or the website is, the iPhone app from ESPNCricinfo is beautifully made and it carries a lot when it comes to information around the series, not just the live score and neatly done live commentary.
Cricbuzz on iOS
Frankly, the app for Cricbuzz looks much better on iOS than how it looks like on Android. You should surely give this a try if the Cricinfo app feels boring or a little overloaded.
Star Sports iOS App
The app gives the delayed streaming of the match for free, and there is a paid option where live streaming happens, but for those who are okay with just the score updates, the app is well managed with updates of the game.
Official IPL App
This app is free of adverts, bringing you LIVE action, reaction and exclusive coverage of the IPL 2016. It is quite heavy at times, but if you are an ardent follower of the IPL tournaments, there are stats from all the seasons that happened till now.
Apps for Windows Phone to follow IPL 2016
I've not personally checked these apps, but listing a few based on user's recommendations and to be fair, you should try to follow the score through Internet Explorer browser by visiting one of the websites listed above. Still, if you want to have an app, here are the three recommended ones.
The ESPN Cricinfo Windows 8 app provides comprehensive coverage of cricket from around the world from espncricinfo.com. There will be commentary, pictures, scorecards and now, push notifications for wickets and boundaries are included too.
The Board of Control for Cricket in India presents the official Windows Phone app for all BCCI Events. There are live scores, results, fixtures, stats, exclusive news, and interviews.
Although last in the list, the only reason is that I am a fan of Cricinfo, and BCCI app too offers a lot. But, Yahoo! Cricket app for Windows too is packed with several features including interactive scorecard, rankings, stats, live updates and much more.
Any option to watch IPL video streaming?
Star Sports holds all the rights to stream the IPL matches, you can directly go to either the website starsports.com or watch the streaming on the smartphone apps that are mentioned above. The only struggle would be that if you are not paying for a premium subscription, there won't be a live stream and you will end up watching a 5-minute delayed game.
I don't want to open one of the websites, not I am such a fan that might want to check score every minute on the app. Isn't there any easier option?
There is. For Android users, the easiest way is to just open the Chrome browser and search for "IPL score" and you don't have to go anywhere. The score would just show up on the Google search results. Far better, based on your searches, Google Now acts to show you the score on Google Now regularly if you have it set up on your phone.
On UC Browser and Opera, the score doesn't get updated all the time and the previous score keeps showing even when the page is refreshed. Why?
It has to do with the cache feature in those browsers, and in fact, the issue won't be only on these two browsers. To always get the latest update on the page rather than having a cached version, you will have to change the settings and turn off Cache or Data saver feature in the browser.
Which are your favorite ways to check the IPL score, or any cricket series score on your smartphone? Do you visit one of the websites listed above or use one of the apps? Do comment with your favorite ones if they are not in the list.