We have been aching to see a battery pack of our imagination for its capabilities. The current on-going smartphones aren't staying long enough for our daily usage. Ok, even if they are doing well for a day's use, we run for our chargers for the very next moment, right? We may face downtime such as we have to use our laptop in an emergency which is low on charge and there's no power source. The list goes on for our search of power sources in case of emergency. ChargeTech enterprises, a U.S based startup, has come up with this unbelievably packed power bank 'PLUG' with 48,000mAh! You read that right, 48,000 mAh.
PLUG has been presented in Indiegogo by ChargeTech to raise funds. They've already raised $548,890 USD out of their $30,000 goal with 1800 backers and still going strong.
You won't believe the capabilities of PLUG. Weighing just 1Kg, it is provided with 2x AC outlets up to 250 Watts, 2x fast charge USB ports and 1x USB type-C output. It has a LED display which shows the battery percentage and a dedicated recharging port.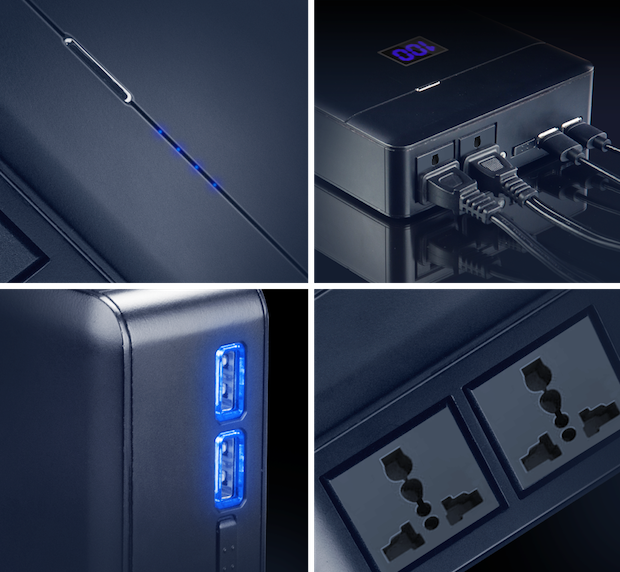 The batteries used in the PLUG are Tesla battery cells which made them weigh so light. It approximately takes 7hrs to fully charge the PLUG. There is also a facility to charge the PLUG with solar panels which approximately takes 8hrs to fully charge it. The solar panels are provided for selected Perks.
With PLUG, you can charge all Laptops, iPhone and Other Mobile Devices, iPad, CPAP Machines, Medical Devices, Desktop Computers, Printers, Flat Screen TVs, PS4, XBOX ONE, Wii U, Various Video Gaming Consoles, Mini Fridges, Cameras, Drones, Hoverboards and much more.
Here's a flowchart of what all you can do with the PLUG.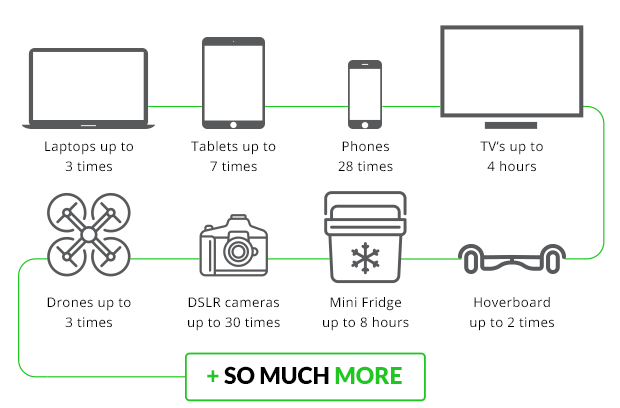 Now, we all know where and when we can use the PLUG. We have four Perks to choose from and the shipping period is yet to be announced. We believe that the PLUG will be available via Amazon at their MRP. In the campaign, it is available at a discounted price as an Early bird offer.
While we talk about these projects from crowdsourcing websites, we cannot guarantee or vouch for their delivery or whether they would be successfully made or not, but they are among the coolest ideas people have got.