Fossil has launched Q Tailor and Q Nate Smart Analog movement watches along with the Q Motion affordable fitness tracker to add to its range of ever growing fitness and activity trackers and smartwatches. There were two other smartwatches launched, the Q Marshal and Q Wander smartwatches which are powered by Android Wear OS. Q Motion which is an affordable activity and sleep tracker is shaped as a cylindrical bracelet,
Fossil launched their Q line of smartwatches and fitness bands last year with two smartwatches and two activity trackers. The Q Motion can be paired with your smartphone and gives notifications of calls, texts and activity with the help of haptic vibrations and multi-color LED lights. It also tracks your sleep and activity which can be accessed on your smartphone. Along with activity tracking, Q motion comes with smart tap technology which lets you play music, it also lets you find your phone with the help of simple taps on the band along with taking selfies when connected with your smartphone.
The device comes with coin cell batteries which are said to last six months to power the cylindrical bracelet fitness tracker. The Q Motion fitness tracker is water resistant for up to 50 meters and features interchangeable straps.
Fossil also introduced Q Tailor and Q Nate Smart Analog Movement watches which are Analog watches can be paired to Android smartphone or iPhone devices via Bluetooth and will give notifications from your contacts with the turn of the watch hands. They also act as activity trackers to keep track of steps, calories, sleep and automatic time zone updates. The Q Motion activity and sleep tracker is priced at 495 and will be available this summer.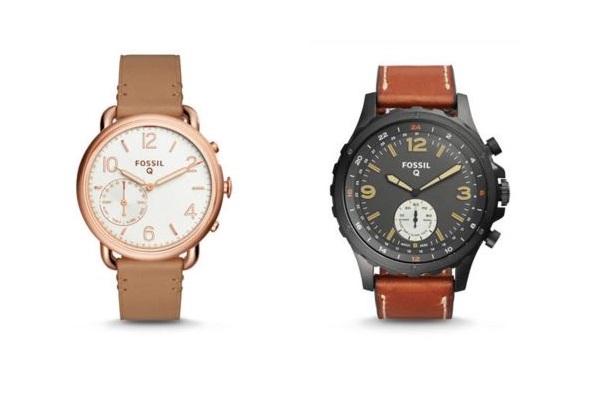 The pricing and availability of the Q Tailor and Q Nate Analog Movement watches has not been revealed. Fossil is partnering with brands like Chaps, Diesel, Emporio Armani, Kate Spade, Michael Kors, Misfit, and Skagen to launch 100 smart wearable devices this year which is going to change the Wearables market in a big way.