Intel has just unveiled the new Thunderbolt 3 connectivity, and this is going to take advantage of the USB Type-C port, instead of the Mini Displayport it used in the past. The new connector that was announced at the Computex 2015 event, is able to support USB 3.1 (up to 10 Gbps) and the Thunderbolt layer has its maximum bandwidth doubled from 20 Gbps to 40 Gbps.
"Thunderbolt™ 3 is computer port nirvana – delivering two 4K displays, fast data, and quick notebook charging", said Navin Shenoy, vice president in Client Computing Group and general manager of Mobility Client Platforms at Intel Corporation. "It fulfills the promise of USB-C for single-cable docking and so much more. OEMs and device developers are going to love it."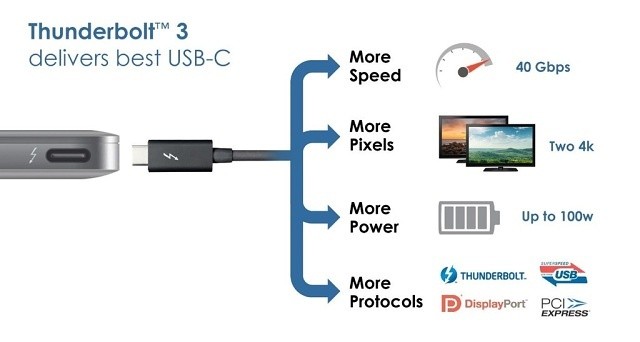 The new USB Type-C connector was recently introduced by the USB group, and it is the one seen in the new Macbook as well. It is small, reversible, fast, supplies power, and allows other I/O in addition to USB to run on it. In Thunderbolt mode, a single cable now provides four times the data and twice the video bandwidth of any other cable, while supplying power.
The new Thunderbolt will also allow 4K video streaming, single-cable docks with charging, external graphics, and this is possibly the best USB Type-C connector right now. It will allow connecting to two 4K resolution 60 Hz displays.
On the power side, the Thunderbolt 3 will be providing up to 100W system charging, and up to 15W to bus-powered devices. An ethernet connection with 10Gb can be made possible with it. Alpine Ridge controller is what backs the Thunderbolt 3 connector from Intel, and it has the USB 3.1 host controller to support the USB 3.1 connectivity.
There is no date mentioned for the actual launch or availability of Thunderbolt 3 for devices, but it is expected to be seen by the end of 2015 or early 2016.