Let's face it. Even if we have a smartphone with amazing battery life, we find reasons to curse it when the percentage left is low and you wanted to squeeze out more hours from the remaining battery in the phone, because either you might be traveling, or have forgotten the charger at office. Whatever the reason, you have the smartphone manufacturers helping out with some options that help increase the battery life.
Read: Gionee Pioneer P2M Review
The Gionee Pioneer P2M smartphone with a good 3000 mAh battery might get you into such emergency situations very less often, but still, you might want to know how it works. There are two different power saving modes in the Pioneer P2M – Normal and Extreme. Learn how they work, and how to turn these on.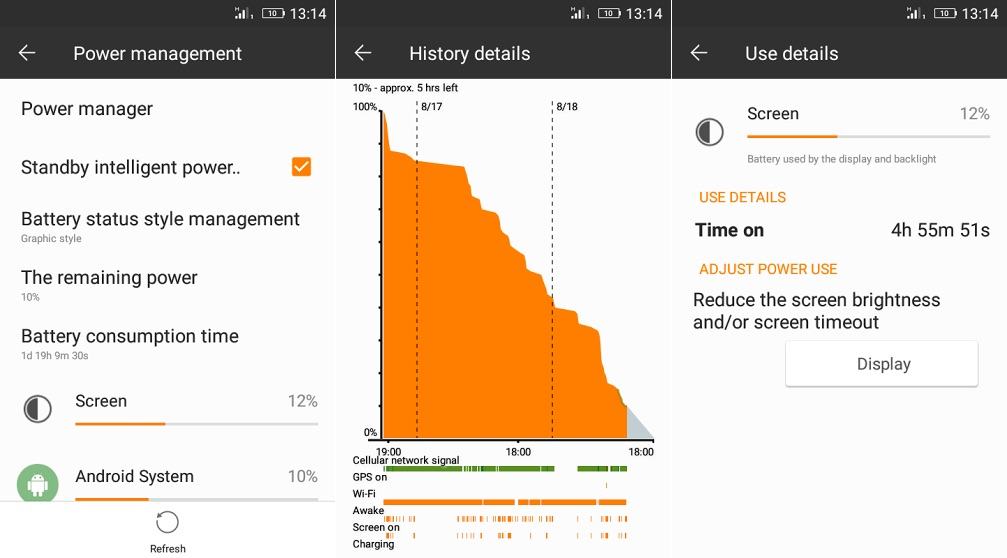 Read: How to increase battery life of Gionee Pioneer P2M
Normal Mode for Power Saving in Gionee P2M
In this mode, there is a dark theme that can be enabled, and this reduces the power consumption of the screen.
Green background service starts – Here the apps that don't have permission and are yet consuming power, are prohibited from running the background
Other power consuming functions such as Bluetooth, GPS, Sync, Somatosensory gestures, touchless gestures, push notification apps, are all stopped until the mode is activated.
This normal mode is helpful for those who want to still have the standard interface running, but are okay with the difference in performance until the phone gets back to normal state when battery is charged.
Extreme Mode for Power Saving in Gionee P2M
The extreme mode, as the name suggests, is an extreme step at saving power on the device. While on the Normal mode one would see the remaining time from 10 hours originally to 16 hours, the extreme mode will be able to give about 265 hours of usage for the same battery percentage remaining.
But, a very minimalistic design is what you would be seeing in this mode, and almost all the functionality is gone. You won't be able to see any apps that you had downloaded or even the ones company provided, except four – Phone, Contacts, Messaging, and Clock.
Since this is a totally different interface with only four functions available to use, you won't be seeing any widgets you had placed on the home screens. Since there is no other option available, especially the internet related stuff, you don't need to think about background data and such.
This extreme mode for battery saving is recommended when the phone actually has just 5-10% battery left and you want it overnight or more, even if it allows only calling and messaging.
How to turn Power Saving modes ON in Pioneer P2M
To turn one of these power saver options, go to Settings > Power Management and here, the first option – Power manager. The two options will be available here to toggle.
There will also be a wrench icon on the same Power Manager page, which will have toggle for "Intelligent power saving action" and "Intelligent memory clean". They will be ON by default, and if they aren't, activate them.