Photo printing instantly after taking a picture is not something new, but Polaroid doing that is worth a notice. Polaroid has a ZIP Instant Photoprinter that is capable of printing the captures instantly after capturing them. These are full-color photos that can be printed, and before doing that, they can be even edited.
This is a simple photo printer, but is compact and easy to carry. It helps you print directly from your mobile phone or tablet in less than 60 seconds using Bluetooth or NFC technology. The size of the photos that are printed using this instant photoprinter, is 2×3-inch and these are full color smudge-proof photos, and they carry a sticky back.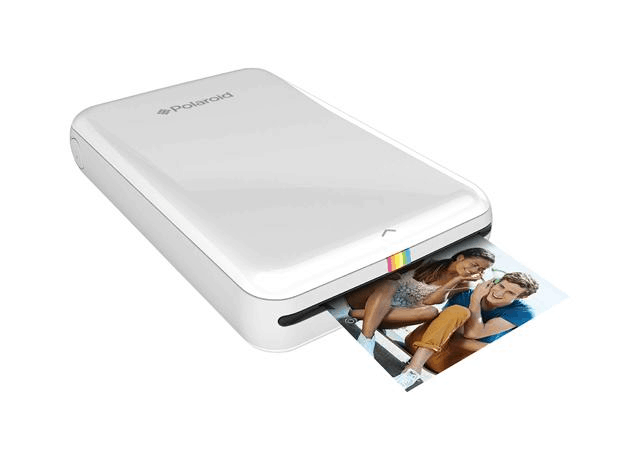 ZINK zero ink printing produces photo-quality, full-color output without using ink cartridges, ribbons, or toner. This is the Zero ink technology just like the Pocket photo printer from LG, which also could print color photos. The dimensions of Polaroid Zip are 2.91" x 4.72" and it takes about a minute for the photo to be sent from the Android or iOS device, to the printer and then another minute for the photo printing to happen.
Here's how the photo is printed when there is no ink in the printer: The paper does the magic here, as it comes with the multiple layers of cyan, yellow, mangenta dye crystals, and then the printer heats itself up to a high temperature to make a photo with the desired colors, and then the paper is also protected by top gloss overcoat.
There are apps for both iOS and Android, and these apps offer functions such as adding stickers and putting together mini collages. For Android users whose devices have NFC, the app allows NFC usage for a quicker connectivity. About 22-25 photo prints are possible on a singe charge, and there is a USB cable provided for USB charging of the battery.
The Polaroid Zip photoprinter is currently available in all four colors for $129.99. The other product from Polaroid that was showcased at the CE Week 2015, is the Polaroid Cube+ camera.